You are hereBlogs / SupAdmin's blog
SupAdmin's blog
---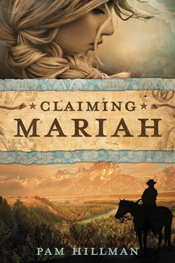 Claiming Mariah by Pam Hillman
In light of her father's death, Mariah Malone sends a letter that will forever alter the lives of her family. When Slade Donovan, strong willed and eager for vengeance, shows up on her front porch, Mariah is not ready to hear his truths: her father's farm, the only home she's ever known, was bought with stolen gold. With Slade ready to collect his father's rightful claim and force Mariah and her family out on the streets, Mariah must turn to God for guidance. Though Mr. Frederick Cooper, a local landowner, promises to answer her financial woes if she agrees to be his bride, Mariah finds herself drawn instead to the angry young man demanding her home.
With the ranch now under Slade's careful eye, he will unearth more than he ever imagined as a devious plot of thievery, betrayal and murder threatens more than the well-being of the ranch, endangering the lives of those who hold it dear. With days dwindling until the rest of the Donovan clan arrive to the Lazy M ranch, Mariah and Slade must rise above the resentment of their fathers and see their true feelings before greed alters their futures forever.
Where Treasure Hides by Johnnie Alexander Donley




Artist Alison Schuyler spends her time working in her family's renowned art gallery, determined to avoid the curse that has followed the Schuyler clan from the Netherlands to America and back again. She's certain that true love will only lead to tragedy—that is, until a chance meeting at Waterloo station brings Ian Devlin into her life. Drawn to the bold and compassionate British Army captain, Alison begins to question her fear of love as World War II breaks out, separating the two and drawing each into their own battles. While Ian fights for freedom on the battlefield, Alison works with the Dutch Underground to find a safe haven for Jewish children and priceless pieces of art alike. But safety is a luxury war does not allow. As time, war, and human will struggle to keep them apart, will Alison and Ian have the faith to fight for their love, or is it their fate to be separated forever?
Take a look at the list of great giveaways and contests that I found for this week. Be sure to click and enter fast, though, since I'm not sure how long some of them will last!
Linda S Glaz is giving away some novels: http://lindaglaz.blogspot.com/
Sylvia Nash is giving away two signed copies of The Missing Calico:
http://lindaglaz.blogspot.com/
Lillian Duncan is giving away a copy of Janet K. Brown's devotional book, Divine Dining: 365 Devotions to Guide You to Healthier Weight and Abundant Wellness at http://www.PowerUpWithGod.com
Michael J. Webb is giving away an autographed copy of THE OLDEST ENEMY http://www.womenofvalleyview.blogspot.com/p/28-sep-terris-library-christ...
H. G. Ferguson is giving away a copy of NEW BLOOD http://5020genesis.wordpress.com/2013/01/23/write-to-the-point-with-h-g-...
Melissa Finnegan is giving away seven books http://5020genesis.wordpress.com/2013/01/25/loved-part-10/
Carole Towriss is giving away IN THE SHADOW OF SINAI http://sandirog.blogspot.com/2013/01/book-giveaway.html
Elk Lake Publishing is giving away then copies of GRACE LIKE RAIN http://www.bookfun.org/group/elk-lake-publishing/forum/topics/question-f...
Pam Hillman is giving away an ereader (winners choice of Kindle or Nook) on Facebook: https://www.facebook.com/events/583454505015085/
From Margaret Brownley: "Ever own a car that was clunky, rusty, holey, feisty or sporty? In my new bookWaiting for Morning, the hero owns a rattletrap named Bertha whose habit of backfiring nearly gets him killed when the heroine, thinking she's being shot at, fires back. Tell us about a car that played a part in YOUR life story and you could win a $100 gas card. Just write a paragraph or two and send (along with a photo if you have one) to contests@nancyberland.com. Contest ends January 31st!"
K. Dawn Byrd is giving away a copy of SOMETHING BEAUTIFUL: http://www.rosemccauley.blogspot.com/2013/01/giveaway-and-more-about-k-d...
Donna Schlachter is holding a contest for a $10 Starbucks card: http://www.historythrutheages.blogspot.com/2013/01/remember-my-contest.html
Tina Pinson is giving away two $25 gift certificates, plus pendants and books: http://tinapinson.blogspot.com/p/contests_12.html
A Resolutions Contest for a $10 Starbucks gift card: http://allbettsareoff.wordpress.com/2013/01/26/resolution-contest/
Laura McClellan is giving away books: http://www.laura-mcclellan.com/celebrate-with-me-book-giveaway/
Two chances to win two books: http://lighthouse-academy.blogspot.com/2013/01/betrayal-and-two-book-giv... or http://lighthouse-academy.blogspot.com/2013/01/belonging-and-two-book-gi...
Jeanett Windle is giving away a copy of CONGO DAWN: http://internationalchristianfictionwriters.blogspot.ca/2013/01/intervie...
Georgiana Daniels is giving away a copy of A DAUGHTER'S REDEMPTION: http://www.divinedetour.com/?p=18591
Freebook Sifter makes it easy to find over 35000 free eBooks on Amazon.com for your Kindle or eReader. At least that's how Freebook Sifter describes itself on its website. And, from looking at their website, it seems to be true. There are thousands of free books from Amazon for Kindle listed on the Freebook Sifter website.
The site may not be much to look at - no fancy graphics, no nifty layout - but their list of free books is organized into helpful categories (Fiction, Non-Fiction, Advice, Fantasy, Romance, etc.).
One of the best features of Freebook Sifter's websiteis the "Added Today" category.
So, go out and find a free book from Amazon today!
Destiny's Promise
An anthology containing: The Imminent Future: Meet Sylver Dreeming, the foremost geo-thermal expert for CosmoTeck. Follow her efforts to find a solution to the problem of Earth's overpopulation in the year 2193.
Daughter's Destiny: Is a daughter's healing strength enough to save her mother from the evil that has stalked her across an entire mountain? Can love change the nature of the beast that only wishes to do harm?
When Grier Thompson is called to Indigo, Alaska to deal with the estate of her late, estranged father, the last thing she expected to find was a hotly contested will, a hostile half-sister who never knew Grier existed, or for that matter, an entire town that doesn't take kindly to this stranger.

Except maybe Mick O'Shaughnessy. An Indigo native, Mick thought his simple life couldn't get any better--until he takes one look at Grier.
Amelia Darcy has no interest in the titles of Victorian London's eligible bachelors. Her heart belongs to the sky and the dirigibles of brass and steel that swoop over Big Ben. But after her inventor father's untimely death, Amelia and her brothers are left with scrap metal --and not a penny to their names.


Princess Mercedes of Alden is journeying home from a young ladies academy in Scotland when her coach is set upon by highwaymen. Lost, bedraggled and alone, she seeks help at a nearby inn. But with no money, and looking no better than a common beggar, the townsfolk laugh at her far-fetched store and turn her away.

Stem of Time
Jillian is a scientist, determined to cure cancer, and she has the brains to do it too, she just doesn't have the time. In order to make more time, she invents a time stem, enabling her to slow time for herself and allow her to do the work of five people.
But, she never expected the consequences this could have: she draws the unwanted attention of the Council, has an assassin sent after her, a bounty placed on her head and gains a new husband, whom she's never met. And all she wanted to do was to cure cancer.